Philippines
---
Philippines
Whenever our Christian community in Tokyo holds special events for sharing our faith to friends and other guests, we usually have socials afterwards wherein food and beverages prepared voluntarily by community members are served.
Here's a parallel list of holidays in Japan and the Philippines for this year:
It's been a long time since we last bought a CD album. With the availability of online music stores that sell by the song, we can select and buy only the songs that we really want, leaving out those that we don't. But with the new album of Charice, there's nothing you would really want left out!
Did you know that for more than 54 years the Japanese Government through its Ministry of Education (Monbusho) has been sponsoring foreign students, including Filipinos, to study in Japan?
On April 23, 2010, the Philippine Postal Corporation will be issuing special commemorative stamps in honor of Bro. Eraño G. Manalo, the late Executive Minister of the Iglesia Ni Cristo.
Net 25, a popular information-oriented television channel in the Philippines, is now available in Japan through ACCESS TV - a direct-to-home broadcast service provided by IPS. The signing of Memorandum of Agreement between Net 25 and IPS was held in Tokyo last March 23, 2010.
We were informed by one of our friends, Sis. Ester, that Manny Pacquiao has a billboard in Shinjuku, a very popular urban spot in downtown Tokyo.
Does it mean Pacquiao is famous here in Japan?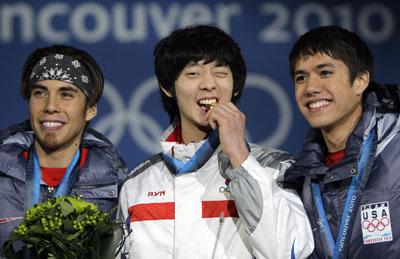 Two Filipino-Americans, both representing the US, competed in this year's Winter Olympics. One of them, John Robert Celski, bagged the bronze medal in the Short Track Speed Skating while the other, Amanda Evora, placed 10th in the figure skating pair's competition.
Here's a parallel list of holidays in Japan and the Philippines for this year:
Did you know that Jose Rizal, the Philippine national hero, was non-Trinitarian? If you read the following arguments, you would think you're reading an Iglesia ni Cristo tract. However, these are in fact from the letters of Rizal to the Catholic priest Pablo Pastells.