---
Last night, trains on the JR Yamanote Line and other lines got delayed for about two hours. According to early reports, an object hit the front of the train near Mejiro Station.
I needed a white suit for a special church occasion (Sta. Cena). Had there been more time before the said occasion, I would have ordered one from the Phillippines. Not only is it cheaper in the Philippines, I also know of a Filipino tailor who makes really good suits and barongs.
Finding suits in Japan is very easy, unless of course you have special requirements such as an unusual color. I searched for stores online and found two stores that seemed to sell white suits . One is in Ueno and the other is in Harajuku.
Costco is one of the places in Japan where you can find relatively cheap imported items. Thanks to our sponsors - Bro. Raffy and Sis. Elkie - we are able to regularly go to Costco just like last Sunday.
Cerg and I went to look for a blue suit (pang-diakono) last Saturday. I wanted an Armani but I couldn't find one which suited my taste (read: none suited my budget), so I settled for a relatively unknown brand.
A few years ago in one of the companies I worked for, we had an ADO.NET 1.0 application that used MS Access as its database system. We needed to port it to MS SQL Server and so we had to modify the source code. What we did was to write data provider specific code each for MS Access and MS SQL Server, similar to the following sample code. It worked but it was not an elegant solution.
We were informed by one of our friends, Sis. Ester, that Manny Pacquiao has a billboard in Shinjuku, a very popular urban spot in downtown Tokyo.
Does it mean Pacquiao is famous here in Japan?

Do you want to use Oracle SQL Developer in English but you're running Japanese Windows OS?
Here's what you need to do to make Oracle SQL Developer display English texts in menus.
Iglesia Ni Cristo purchased the 11,000-square-foot church facility located at 401 Broadway in El Cajon for $1,755,000. Built on a 1.11-acre lot, the facility features a
traditional church building with recent upgrades, four classrooms, nursery, choir room, kitchen, fellowship hall and library. Iglesia Ni Cristo is the largest entirely indigenous Christian organization that originated from the Philippines and the largest independent church in Asia. Eric Knowles of the CB Richard Ellis Religious Facilities Practice Group represented the seller, Christian Missionary Alliance. The buyer represented itself.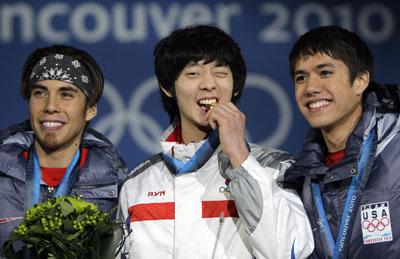 Two Filipino-Americans, both representing the US, competed in this year's Winter Olympics. One of them, John Robert Celski, bagged the bronze medal in the Short Track Speed Skating while the other, Amanda Evora, placed 10th in the figure skating pair's competition.
Whenever there is a coming election, I'm often asked about the reason for the unity of our Church even in things that do not seem to involve matters of faith such as the exercise of suffrage. My usual response is to point out that the early Church were in fact united not only in spiritual matters but also in matters that seem to concern only this world.